Admin Professionals Day
Event Navigation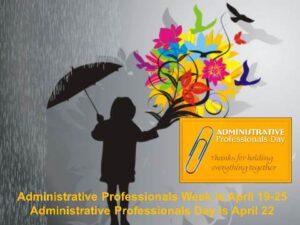 Since 1952, the IAAP has honored office workers by sponsoring Administrative Professionals Week. Today, it is one of the largest workplace observances outside of employee birthdays and major holidays.
Each year, administrative professionals are recognized for their skills and loyalty, attributes almost every office depends upon. Administrative Professionals Week celebrates and sheds light on administrative professionals' devoted, valued work.
This year's theme: Grow Where You Are Planted!
Related Events